Dear colleagues,
despite our best wishes, this year's events have again proven that epidemics do not care much about people's wishes, and it appears that meeting in person will not be possible this year. We are thus, again, cancelling the plan to organize the 3rd Biotremology Conference in Piran in September.
This is not to say we have abandoned the idea of hosting you in Slovenia; a live conference is still on our mind, possibly in September 2022, but the situation prevents us from making any definitive announcement at this time.
To help foster exchange in our dynamic biotremology community in the meantime, we have instead decided to organize a series of monthly online meetings that will be primarily geared towards PhD students and early-career researchers, but 'seniors' are warmly welcomed as well. These meetings will take place from this month onwards, so expect a follow-up with information about the first one shortly.
The organizing committee will consist of members of the biotremology group at the National Institute of Biology: Rok Janža, dr. Anka Kuhelj, Juan Jose Lopez Diez, dr. Jernej Polajnar, dr. Nataša Stritih-Peljhan, Rok Šturm, and dr. Meta Virant-Doberlet.
The format for these meetings will be less formal and not fixed, and the committee is also accepting ideas and proposals for other kinds of online gatherings, such as round tables, plenary lectures from established researchers, etc. on any related topic. Guest organizers are welcome too; the online platform will be provided by the National Institute of Biology.
We would appreciate comments, ideas, etc. by way of a message to biotremology2020@nib.si – that will help us gauge interest in the community.
In the name of the organizing committee,
Dr. Meta Virant-Doberlet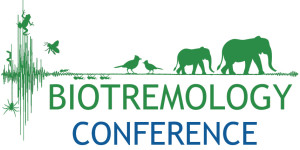 PIRAN, SLOVENIA,
eventually
The 3rd International Conference on Biotremology aims to bring together researchers and students of vibrational communication to strengthen collaboration, develop new ideas and research, and to form a strong supportive network for the emerging field of Biotremology.
Place: Marine Biology Station, Fornače 41, Piran, Slovenia
Date: to be determined
Jump to
Circulars
Previous editions
---