Dear Colleagues,
we would like to cordially invite you to the third Biotremology Conference, to be held in September 2021 in Piran, Slovenia. The event, organized by the National Institute of Biology (NIB), will be hosted at the Marine Biology Station in Piran, a lovely medieval town on Slovenian coast. 60-80 participants are expected to participate over the four days of the meeting.
The International Conferences on Biotremology aim to bring together the community studying vibrational communication in all taxa, to strenghten collaborations, develop new ideas and research, and form a strong supportive network for the emerging field of Biotremology. The main program of lectures will complemented by poster exhibition, workshops and stands. Moreover, participants will have a chance to attend a varied social program including a trip to the most famous example of Slovenian Karst, a social dinner and music performances.
We wish you a wonderful stay in Piran.
On behalf of the organizing and scientific committees,
Dr. Meta Virant-Doberlet
convener of the Congress
Note: the Covid-19 pandemic has disrupted the original plan of organizing the conference in September 2020, so the event has been postponed to 2022. Please follow our communication channels to stay informed about the change.
Conference logo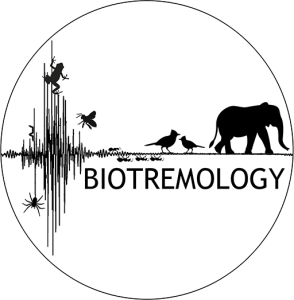 The logo design by Julien Bota was chosen recently in a competition to represent the field of Biotremology. Like the design? You may order a conference t-shirt featuring this logo at registration.
Previous editions