Venue
The conference will take place at the Marine Biology Station in Piran, Slovenia.
Part of the National Institute of Biology, the Marine Biology Station Piran is the only institution for marine research and monitoring of sea water quality in Slovenia. Research groups of the MBS pursue research in the fields of physical, chemical and biological oceanography. The building itself is located in the Fornače area south of the town centre. It features an auditorium for up to 110 visitors, library, classrooms, laboratories, guest rooms and other facilities. Read more.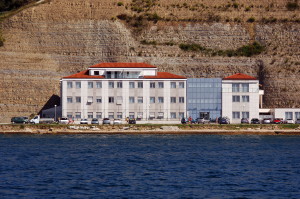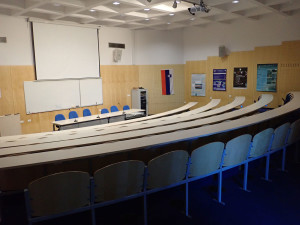 Address:
National Institute of Biology, Marine Biology Station Piran
Fornače 41
6330 Piran
Slovenia
A free shuttle service connects Fornače with the city centre.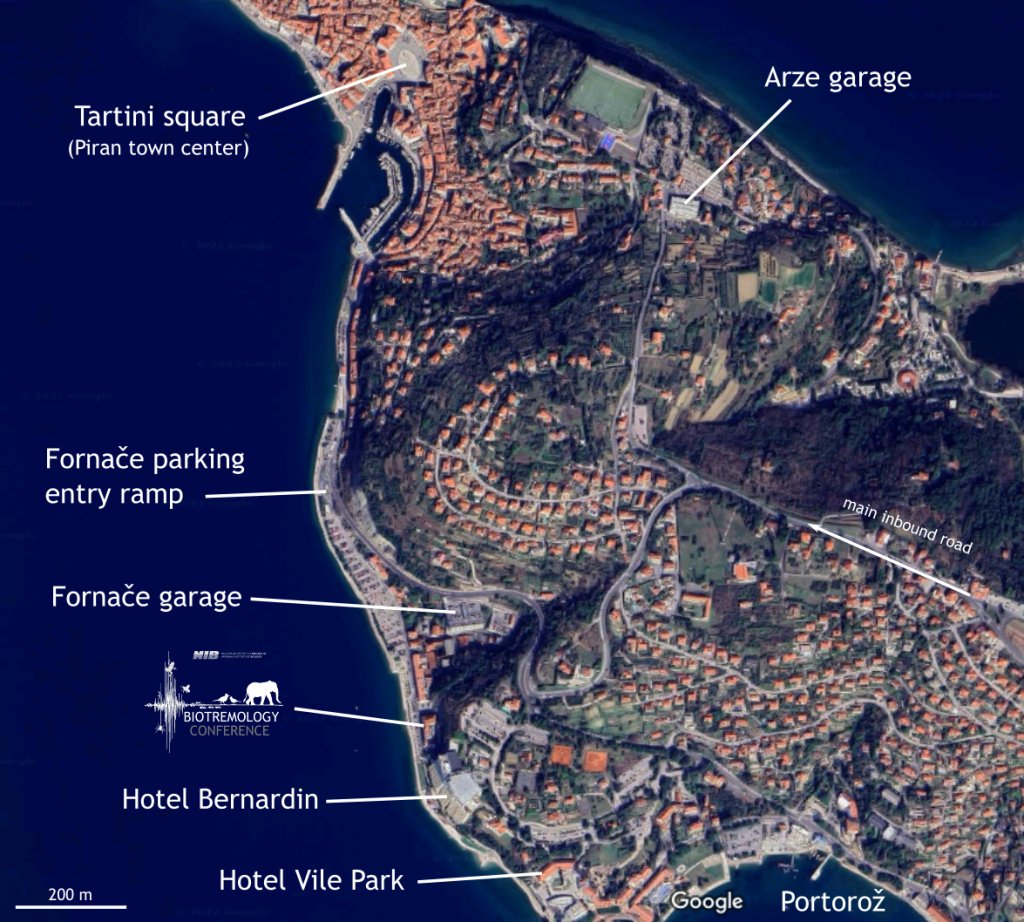 Location
Piran is a small city with rich history situated on the Adriatic coast, at the northwestern edge of the Istrian peninsula. Remnants of medieval architecture reveal deep influence of the Venetian Republic. The most prominent resident was baroque composer and violinist Giuseppe Tartini (1692–1770) after whom the main square is named.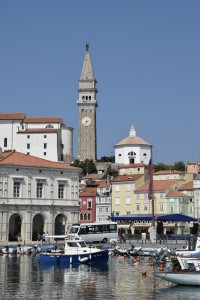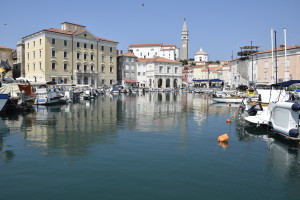 Learn more:
How to get here?
By plane

Most convenient way to travel to Slovenia is by plane. We are strongly recommending you to fly to Ljubljana airport. In the case if flights to Ljubljana airport are too expensive, you can check Italian or Croatian airports.
Below you will find all necessary information about the nearest airports. Trieste, Venice, Ljubljana or alternatively Treviso airport are all near with a convenient shuttle service. However, check also if Pula and Rijeka airports are still open in this season, you might get a good deal.
Note: considering the current uncertainties with public events and international travel, it is advisable to purchase airplane tickets with cancellation insurance.
The table below lists nearby airports:
Name:
LJUBLJANA JOŽE PUČNIK AIRPORT (LJU), LJUBLJANA (SLOVENIA)
TRIESTE – FRIULI VENEZIA GIULIA AIRPORT (TRS), TRIESTE (ITALY)
PULA AIRPORT (PUY), PULA (CROATIA)
RIJEKA AIRPORT (RJK), RIJEKA (CROATIA)
TREVISO AIRPORT (TSF), TREVISO (ITALY)
VENICE MARCO POLO AIRPORT (VCE), VENICE (ITALY)
Location
Zgornji Brnik 130a, 4210 Brnik
>MAP
Via Aquileia, 46, 34077 Ronchi dei Legionari (GO)
>MAP
Ližnjan, Valtursko polje 210, 52100 Pula
>MAP
Hamec 1, 51513 Omišalj
>MAP
Via Noalese, 63E, 31100 Treviso (TV)
>MAP
Viale Galileo Galilei, 30, 30173 Venezia (VE)
>MAP
Driving
distance
(approx.)
142 km (1h 30m)
80 km (1h)
95 km (1h 10m)
117 km (1h 50m)
187 km (2h 20m)
192 km (2h 15m)
Website
fraport-slovenija.si
triesteairport.it
airport-pula.hr
rijeka-airport.hr
trevisoairport.it
veniceairport.it
Organized
transfer
option?
 
 
 
Airport transfer
Public transport is not very well developed in Slovenia, and most people use their own cars.
Airport transfer to Piran will be organized from selected airports (see the table above), you can book it with registration. The price depends on the number of passengers, the service will be provided by Sun Tours d.o.o.
| Number of passengers | Ljubljana | Trieste | Trieste-city | Pula | Venice |
| --- | --- | --- | --- | --- | --- |
| 1 (car) | 135€ | 75€ | 50€ | 135€ | 200€ |
| 2 (car) | 70€ | 40€ | 30€ | 70€ | 100€ |
| 3 (car) | 50€ | 30€ | 20€ | 50€ | 70€ |
| 4-8 (van) | 40€ | 25€ | 16€ | 40€ | 55€ |
| More than 8 (bus) | 30€ | 20€ | 10€ | 30€ | 40€ |
GoOpti: approximate prices
(one-way trip, shared transfer)
Trieste-Piran: from 17 €
Ljubljana-Piran: from 22 €
Venice-Piran: from 27 €
Pula-Piran: from 22 €
The alternative way to reach Piran is to use GoOpti shuttle services. Likewise, GoOpti picks you up from the airport and brings you to the place you need. This is a slightly cheaper option, with more choices of the departure location, but it is an external service, so the Congress organizers cannot vouch for them.
Website https://www.goopti.com
If you want to book a SHARED transfer with GoOpti, you must do so two days before the actual transfer date at the latest, by following the booking process on the website. Example: If you want to travel on Wednesday, you need to book your transfer by 11:59 pm on Monday. In general, prices are lower if you book early. You can also buy last-minute-ticket up to 2 hours before the transfer (but only for the seats that are still available).
If you want to book a PRIVATE transfer with GoOpti, you can book it 2 hours before the transfer at the latest.
By train or bus
Ljubljana is the transport hub of Slovenia, and there are regular connections by train and bus from various European cities.
There are two direct bus lines from the main bus station in Ljubljana to Piran bus station during weekdays, 6:40 AM and 11:10 AM, and an additional morning line on Sundays (timetable). Alternatively, you can travel by bus to Koper (timetable) and swich to a local bus to Piran.
Train service between Ljubljana and Koper does not operate in September.
By car
Take the highway A1 to Koper, then continue straight along the coastal expressway H6, which in turn continues as the local road 111 for further 10 km. After Strunjan, take the exit Piran/Portorož at the roundabout, then follow the direction Piran. See the route from Koper on Google Maps.
Long-term parking is offered by the Fornače garage just above the venue, however, it is rather expensive. If your hotel doesn't offer parking, the alternative is to use the Arze garage a bit further away (Arze 1b, Piran; 15€ daily parking fee inside the garage or 13€ in the parking lot in front). From there, it is less than 10 minute walk to the Tartini square, where you can board a free shuttle taking you to the entrance of the Fornače parking lot. This service departs every 5–15 minutes (see the timetable here).

Entry Formalities
Passports
EU citizens need only produce their national identity cards on arrival for stays of up to three months. Everyone else entering Slovenia must have a valid passport.
Visas
Generally not required for tourist stays up to 90 days (or at all for EU nationals); some nationalities will need an entry visa. Specifically:
Citizens of several developed countries, including Australia, Canada, Japan, New Zealand, United Kingdom and the US, only need a valid passport (no visa) if entering as tourists for up to a total of three months within a six-month period.
Nationals from other countries may need an entry visa. Visa applications must be filed with a Slovenian embassy or consulate, and visas are valid for stays of up to 90 days. Formal invitation letters required for some visas will be provided by the conference organizer after payment of the conference fee; please contact the convenor for details.
For full details, see the Country Registry on the website of the Slovenian Ministry of Foreign Affairs.